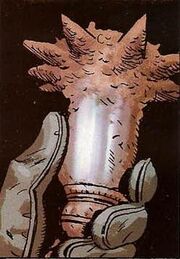 The 'Spiked Cylinder' is an old artifact from Hyperborea used by wise men to focus their power. It was found by Roger in the story "Born Again." Elizabeth Sherman used the object in The Black Flame to focus her fire powers and defeat Katha-Hem. The object was lost at that time.
Ad blocker interference detected!
Wikia is a free-to-use site that makes money from advertising. We have a modified experience for viewers using ad blockers

Wikia is not accessible if you've made further modifications. Remove the custom ad blocker rule(s) and the page will load as expected.