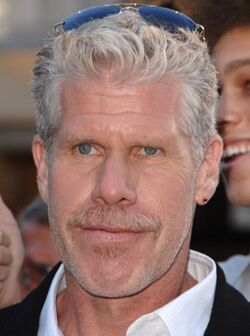 Ron Perlman (b. 1950), is the American actor who portrays Hellboy. He has performed the role in the original Hellboy movie and in Hellboy II: The Golden Army. He provided the voice for the character in the Hellboy animated films: The Phantom Claw, Iron Shoes, Blood and Iron, and Sword of Storms. He also voices Hellboy in the videogame Hellboy: The Science of Evil.
Other Notable Roles
Edit
The Reman Viceroy in Star Trek: Nemesis (2002)
Johner in Alien: Resurrection (1997)
Vincent in Beauty and the Beast (1987)
Amoukar in Quest for Fire (1981)
Clay in "Sons of Anarchy" (2008)
External Links
Edit
Ad blocker interference detected!
Wikia is a free-to-use site that makes money from advertising. We have a modified experience for viewers using ad blockers

Wikia is not accessible if you've made further modifications. Remove the custom ad blocker rule(s) and the page will load as expected.