Ad blocker interference detected!
Wikia is a free-to-use site that makes money from advertising. We have a modified experience for viewers using ad blockers

Wikia is not accessible if you've made further modifications. Remove the custom ad blocker rule(s) and the page will load as expected.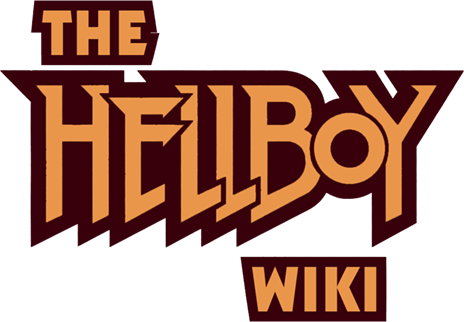 The Hellboy Wiki is a collaborative database for everything related to Hellboy characters, comic book series, films, novels, and more. Because of the wiki format, anyone can create and edit any page on the site, so we can all work together to create a comprehensive database. Be sure to check out the Help pages to get started!
Over 150 stories have individual articles! This includes every comic featuring Hellboy as the title character. See the list here. For all the latest news, including the latest solicitations and links to previews for new books, head over to The Official Hellboy Forum on Comic Book Resources.
There are many pages that need work, especially the stub pages.












SINGLES
Month
Cover
Info
Creators
November

November 30, 2016

Witchfinder: City of the Dead #4

When an old enemy emerges as the ringleader of the risen dead, Sir Edward Grey appeals to a higher power of his own to fight back.

STORY


Mike Mignola
Chris Roberson


ART


Ben Stenbeck
December

December 7, 2016

Rise of the Black Flame #4

A narrow escape from hooded attackers slows the team on their mission to stop a cult's human sacrifice, while their strange guide's dark visions become more urgent but no less mysterious.

STORY


Mike Mignola
Chris Roberson


ART
Christopher Mitten

December 28, 2016

Witchfinder: City of the Dead #5

The Witchfinder returns to the secret chambers of London's underground…

STORY


Mike Mignola
Chris Roberson


ART


Ben Stenbeck
January

January 4, 2017

Rise of the Black Flame #5

The heroes' search finally ends at the temple of the Black Flame cult, but they don't arrive in time to stop what they find there.

STORY


Mike Mignola
Chris Roberson


ART
Christopher Mitten

January 11, 2017

Lobster Johnson: Garden of Bones

When an undead hit man goes after the NYPD, the Lobster steps in to figure out if it's a zombie—or something worse.

STORY


Mike Mignola
Chris Roberson


ART


Stephen Green

January 25, 2017

Hellboy Winter Special 2017

Three weird tales show the world of Hellboy through the years, with Edward Grey appearing alongside Sarah Jewell, hero of the recent Rise of the Black Flame series in 1890s London. In 1980s New England, Hellboy, Abe Sapien, and Liz Sherman set out on a simple search for some missing kids and encounter a tormented spirit seeking to share its pain.

And Paul Grist (Kane, Jack Staff) joins the team for a 1950s Hellboy story providing a glimpse of the next new title to debut in the Mignolaverse.

STORY


Mike Mignola
Chris Roberson
Scott Allie


ART


Paul Grist
Christopher Mitten
Sebastián Fiumara
February

February 22, 2017

The Visitor: How and Why He Stayed #1

In 1944 Hellboy was conjured in a ceremony meant to give Hitler the ultimate occult weapon. Fortunately, Professor Trevor Bruttenholm was there to witness, and to guide Hellboy to become the greatest paranormal detective in the world. But Bruttenholm wasn't the only witness to Hellboy's arrival. A visitor was there, sent to kill the Beast that had been prophesied to kill us all. What the visitor saw, and why he stayed his hand, leads to the most mysterious Hellboy spinoff yet…

STORY


Mike Mignola
Chris Roberson


ART


Paul Grist

April

April 19, 2017

Hellboy: Into the Silent Sea

Hellboy sets sail from the wreckage of a deserted island only to cross paths with a ghost ship. Taken captive by the phantom crew that plans to sell him to the circus, Hellboy is dragged along by a captain who will stop at nothing in pursuit of a powerful sea creature. Following the events of Hellboy: The Island, Gary Gianni draws Hellboy in a brand-new graphic novel.

STORY


Mike Mignola


ART


Gary Gianni
COLLECTIONS
Cover
Info
Creators

March 22, 2017

B.P.R.D. Hell on Earth – Volume 15:
Cometh the Hour

The BPRD struggles to keep the massive Ogdru Jahad, and the dozens of monsters it looses every hour, from destroying headquarters and the world, and desperate times lead Russian occult bureau Director Nichayko to ask a demon for help. This volume collects B.P.R.D.: Hell on Earth #143-147.

STORY


Mike Mignola
John Arcudi


ART


Laurence Campbell

April 19, 2017

Witchfinder – Volume 4:
City of the Dead

Flesheating corpses and an ancient temple discovered beneath London lead authorities to call upon Edward Grey, Queen Victoria's official occult investigator. But the sinister Heliopic Brotherhood of Ra also has interests in the underground ruins. When they ask for Grey's help, he has to wonder if the threat is great enough to team up with a secret society he's sworn to destroy.

Hellboy creator Mike Mignola teams with his new writing partner Chris Roberson (iZombie, Hellboy and the B.P.R.D.: 1953) and his original Witchfinder collaborator Ben Stenbeck (Frankenstein Undergound) for an occult mystery exploring the darkest corners of London.

STORY


Mike Mignola
Chris Roberson


ART


Ben Stenbeck
May 3, 2017

Rise of the Black Flame

The B.P.R.D.'s greatest foe was not always a man...

Little English girls are going missing, and the trail leads to a bloodthirsty cult wielding an ancient power of evil—the Cult of the Black Flame.

No villain in the history of the Mike Mignola's line of books has caused as much death and destruction as the Black Flame. See what it was like when that power belonged to a secret order of priests hidden in the jungles of Siam.

Christopher Mitten (Umbral, Criminal Macabre, Wasteland) joins Mignola and Chris Roberson (Hellboy and the B.P.R.D.: 1953, iZombie) to explore an uncharted corner of the Hellboy's fictional world.

STORY


Mike Mignola
Chris Roberson


ART


Christopher Mitten