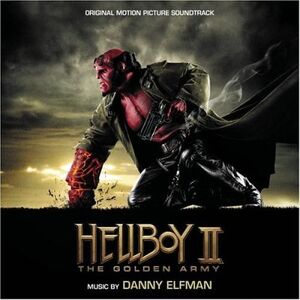 On July 15, 2008, Varese Sarabande released a soundtrack for Hellboy II: The Golden Army. The original music was composed by Danny Elfman.
Track Listing
Edit
Introduction (03:37)
Hellboy II Titles (01:18)
Training (01:50)
The Auction House (02:28)
Hallway Cruise (01:35)
Where Fairies Dwell (04:16)
Teleplasty (01:21)
Mein Herring (01:05)
Father And Son (06:02)
A Link (01:29)
A Troll Market (01:21)
Market Troubles (03:41)
A Big Decision (01:10)
The Last Elemental (04:11)
The Spear (01:47)
A Dilemma (02:55)
Doorway (03:35)
A Choice (03:58)
In The Army Chamber (05:47)
Finale (03:49)
Ad blocker interference detected!
Wikia is a free-to-use site that makes money from advertising. We have a modified experience for viewers using ad blockers

Wikia is not accessible if you've made further modifications. Remove the custom ad blocker rule(s) and the page will load as expected.