Elf
Talk

0
360pages on
this wiki
Elves are a type of magical creature featured in Hellboy II: The Golden Army and in the Hellboy comics. Their appearances often range from beautiful and very human to a strikingly unusual one. King Dadga was himself an elf, and Gruagach himself is implied to have once been an elf, before he was lost and went through a series of transformations.
Description
Edit
The elves seem to be based on those of Germanic mythology; a race of semi-divine beings endowed with magical powers, which they use both for the benefit and the injury of mankind, rather than the small, impish creatures of popular culture, although if Gruagach is any indication, they can become these creatures.
Appearance
Edit
The elves' appearance seems to vary between the comics and films.
In the comics, the elves have a dark skin tone, seem mostly human, but occasionally possess strange traits such as horns. This may be shadowing, or an effect of time, or maybe different subspecies, as the elves of the past are depicted as being closer to a human, more beautiful, and having brighter skin tones.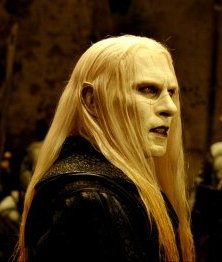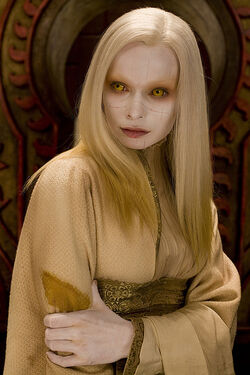 In the films, elves very much resemble Humans, although they possess ghostly-white skin and faces etched with strange designs. They also have long silvery hair ending in gold and have eye color ranging from amber to sienna. Their ears are leaf-shaped and pointed. Born of the earth, Elves turn to stone when they die, thus returning to it.
Abilities
Edit
It is not certain what skills Elves possess, or if they possess any generally special skills at all. However, Elves seem to have a degree of immortality. In the film, the king and his children were said to be alive since the dawn of the earth, meaning they are extremely long lived.
Gruagach, when he was an elf, possessed the ability to transform into any creature he wanted - an ability he used to kill giants in the more glorious days of the fairy people. However, he also lost these powers when a woman he loved screamed (he became a song bird and she tried to warn him) and disappeared. When he returned in a smaller form, he still had enough power to imitate a human infant.
Prince Nuada of Hellboy II possessed speed, agility and fighting skills far-surpassing those of mortal men, and in some cases even Hellboy. This is shown several times in the film, such as when he infiltrates both an auction house and B.P.R.D. headquarters with virtually no difficulty. Towards the beginning of the film, he dispatches his father's butcher guards in a matter of minutes before killing his father. During their first fight, he easily wounds Hellboy, and during their second fight, still fights at the same level.
Elves, as a race, also seem to be possessed of great magic and the ability to create things of great craft and enchantment, such as weapons and the Great City of Bethmoora. Being the first born race, they also exhibit influence over the elements and the forces of nature, such as when Nuada summons a forest elemental and when he retrieves a metal map cylinder from a fire, his hand completely untouched.