Ad blocker interference detected!
Wikia is a free-to-use site that makes money from advertising. We have a modified experience for viewers using ad blockers

Wikia is not accessible if you've made further modifications. Remove the custom ad blocker rule(s) and the page will load as expected.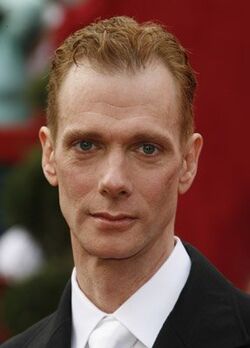 Doug Jones (born May 24, 1960) is the American actor who plays Abe Sapien in both Hellboy and Hellboy II: The Golden Army. He also voices the character in the animated features Blood and Iron and Sword of Storms and the videogame Hellboy: The Science of Evil.
In Hellboy II: The Golden Army he also plays the Angel of Death and the Chamberlain.
Notable Roles
Edit
La Gueule in Gainsbourg (2010)
Abe Sapien in Hellboy II: The Golden Army (2008)
The Angel of Death in Hellboy II: The Golden Army (2008)
The Chamberlain in Hellboy II: The Golden Army (2008
Fauno in Pan's Labyrinth (2006)
Pale Man in Pan's Labyrinth (2006)
Cesare in The Cabinet of Dr. Caligari (2005)
Abe Sapien in Hellboy (2004)
External Links
Edit